Enter Meguey's Contests!

---
About me
Adoptions
Awards
Bases
Conditions of use
Contest entries
Dollz - Main
Editz
Gifts to and from me
e-mail Meg
Messages
Sister Sites
Of the moment

Ok. Contests are fun. I've entered a bunch, I will enter a bunch more, and I knew it was inevitable that I host contests, so here goes:
Rules are simple: Make an origional doll, no drag-n-drops, no frankendolling of other people's stuff. Keep it under 300x300 pixels. Send it to me as a transparent .gif file, and *Be Sure* to put the contest name in the subject line or I might delete it. Also include your name, URL, and base credit. When I get at least 10ish entries, voting starts, with plenty of warning. Voting will last about two weeks or until I feel I've got enough votes to be fair. Generally each doll will only win one award, so they get spread around, 'cause everyone likes to win!
Meguey's Tenth Contest Ever!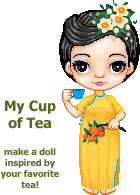 Base
For this contest, make a doll inspired by your favorite tea.
1) Include the name of your favorite tea with your entry - not on the doll, just with your name and such.
2) It would be good if we viewers could figure out what your favorite tea was by looking -
the example is Mandarin Orange Spice, so she's wearing a mandarin style dress and has oranges and orange blossoms.
3) Here's a link to some cool Celestial Seasonings tea art, if you're stumped,
or don't have a favorite tea, or just want something else to inspire you.

Awards will be viewers chioce, my choice, shading, and most original. Maybe others if I feel like it.
Entries